Hi friends!
Just so you know, I'm totally obsessed with photography and to be able to capture special times in a family's life is an incredible blessing that I don't ever want to take for granted.
I've never been known as a 'writer', so on this blog, I'll spare you all with my random ramblings and let the images speak for themselves. I hope that you are able to know me better by seeing the images that I post here. Images that conjure up some kind of emotion in me and I have to share with you. And let's be honest..you're really here for the pictures anyway, right?!
I thought it would be fun to share 25 random facts about me and if we have the awesome privilege of  meeting one day, I'd LOVE to know if you can relate to any of these!
Here you go, in no particular order:
1. I'm kinda into the whole 'social networking' thing. Twitter, FB, Pinterest…Let's be friends

2. I got my belly-button pierced when I turned 20..I'm soooo rebellious! Now that I've been preggo twice, I've totally regretted that decision. Oh well..
3. I used to sing solos in our school plays back in the day. Once I got to sing w/my brother…the song was called "If It Weren't for the Star" (it was a Xmas play) P.S. My very talented momma made this red dress for me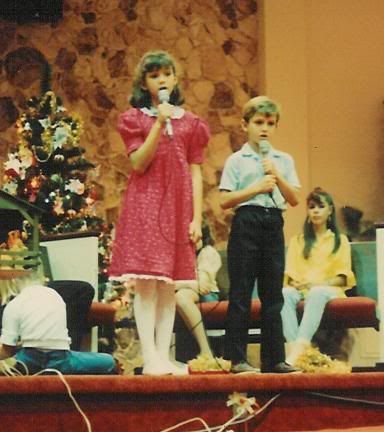 4. The last time I got straight A's was in 5th grade.
5. I've never broken a bone, but I've torn my ACL and ruptured my Fallopian tube..both of which required surgery and a painful recovery.
6. I met Abraham Lincoln…I swear it was him!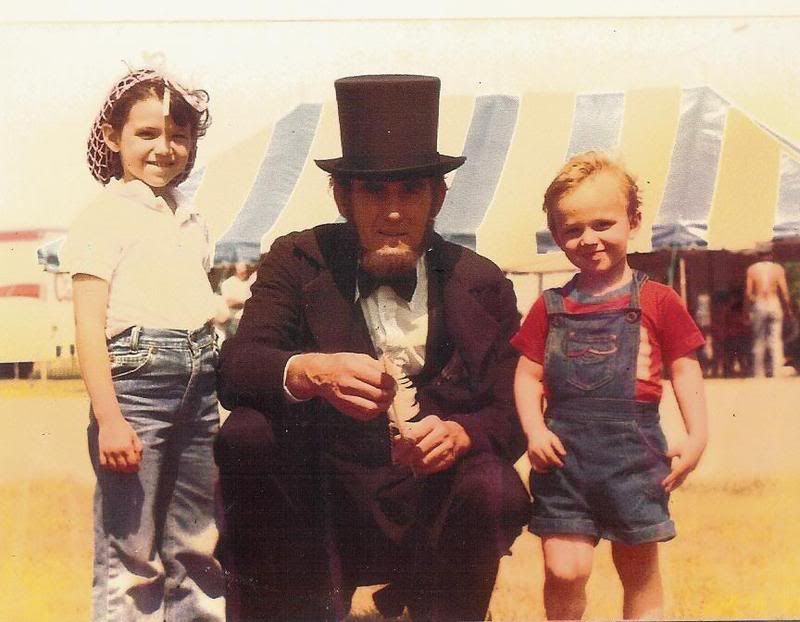 7. I worked as a professional recruiter for only 1 week. I started on Mon. and then left a message on Sun. night saying it just wasn't for me and then never returned. (I'm so embarrassed to admit that!)
8. I've watched every single Shirley Temple movie ever made. The Little Princess is my favorite. I used to pretend I could tap dance just like her.
9. I can sit at the computer playing w/Photoshop for hours, literally. I taught myself most of what I know by watching YouTube videos and lots and LOTS of trial-and-error.
10. I started playing the guitar in college. I used to play for chapel at school. Leading worship is an amazing experience. I really should dust it off and start back up. It's a little hard now that I'm a mom.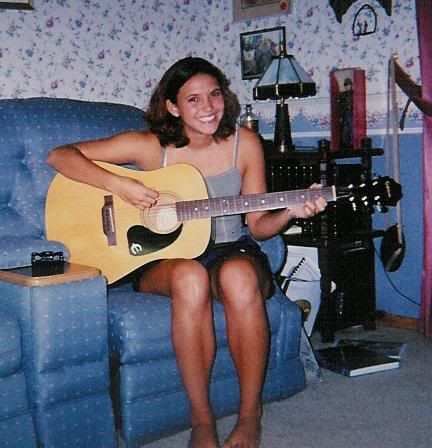 11. I've had 3 retainers, a head-gear, and 'see through' braces.
12. I used to suck my 2 fingers till I was in 3rd grade…how embarrassing!
(That's me on the left w/my 2 cousins)

13. I've only gone fishing once and caught 3 baby barracudas. I didn't touch them, of course..that's what husbands are for!
14. I have a very keen sense of smell, which isn't always a good thing, believe me, you don't wanna smell some of things that have entered my nose (shutter)!
15. I come from a family that likes to go to Civil War reenactments and play dress-up. This has happened more than once..seriously!  Please tell me I'm not the only one whose family does this…anyone…anyone…
16. I remember asking Jesus to be my Savior when I was 5 yrs. old, but I truly understood what that meant when I was on a missions trip in high school. My life is so much richer knowing that I don't have to be perfect to be loved…thank God for AMAZING GRACE!
17. I'm still best friends w/my best friends from high school and love them to death! We were all bridesmaids in eachother's weddings..so fun!
18. I married the smartest man I've ever known and he blesses my life in more ways than he can imagine…love you, baby!
(that's him on the left…oh yeah, we met Michael Jordan too!)

19. I used to wake up really early to watch the sunrise w/my friend, Kori. We would eventually get bored and take pics of ourselves for fun!  Yay for camera timers!  This was probably the 2846949th time we tried this jump…
20. I was a white belt in tie-kwon-do…that's right, I'm hard-core!
21. I really like to laugh…seriously..A LOT! I've peed my pants one too many times because of my uncontrollable laughter.
22. I don't share my ice cream…ever!
23. As far as my music taste goes..I'm a big fan of raw talent..like singer/songwriter type music. I LOVE a good lyric that is meaningful and tells a story. I think that's why I love hymns so much..especially with a modern twist.
24. I think the Pirate's of the Caribbean movies are so fun. Johnny Depp is my fave!
(that's me on the left w/my cousins at one of the Pirate movies..can't remember which one, I think the 2nd one. Geez, after looking at this pic again I realize that I really need to hit the beach soon and get my tan back!)
25. I've never skydived and have absolutely NO desire to go…ever!
So there you have it…told you it was random!
  I'll leave you w/a couple more pics of my little family…
TO BE CONTINUED….